To see the Product Description please click here O

The Shredders were first developed from discussions with Kyle Peet when we met up in the Bahamas as there seemed to a need for slow speed lures to use with Dredges.
The Shredder is a large cup face with 4 Venturi Jets and 4 large normal full-length jets with a sealed large chamber to give it maximum buoyancy and action.

The head shape is based on the first lure we ever produced for the market - the Long Chugger which was renamed in the late 1990's as the Chatterbox.
The first lure was run by Kyle with the following result: "Have had the Shredder in the water for 2 days and have raised 6 white marlin to it"
Ben Colvin – "Helped run these pro types this morning. Worked as slow as 4 knots with a regular breath and a noticeable smoke trail and wiggle, at 19 knots they were still hanging in and actually working. At 6 to 7 knots they are unreal, love the fact even with twin hooks in them they float and would be unreal as a teaser lure for fly or switch baiting as they stay up on top when in neutral where you could see what was happening. Well done Peter Pakula, it's no wonder you have been at the forefront of lure design for so many years. Can't wait to try them up north this season."
The Shredder works like a normal lure but at slower and higher speeds than most and pops easily which makes it a great teaser for fly fishing and bait and switch.
We believe these are the first production game fishing lures made with 3D printing technology.- at 18 or 19knots it pulled less than 5kg of drag which opens it up to a whole bunch of other techniques.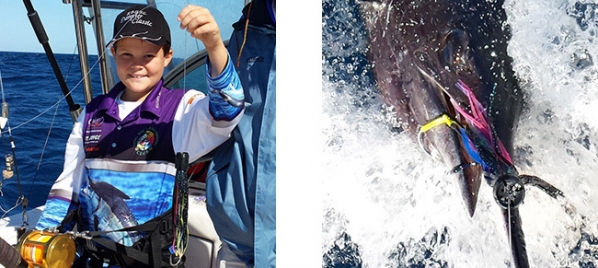 My first use was at the Dampier Classic, Western Australia, in early August 2014 where I fished with the Reckless Junior Team. Out of 12 shots in the 2 days, we fished the Shredder in sizes 7 and 8 inches scored 10 of the shots winning Darcy Bryce the junior division with one on 8kg and three Black Marlin on 15kg. Over the two days, the Shredders were fished and performed well in all positions from calm to short 20-knot wind chop.

Click on the product images below to see the colours available in each size:-