To see the Product Description please click here O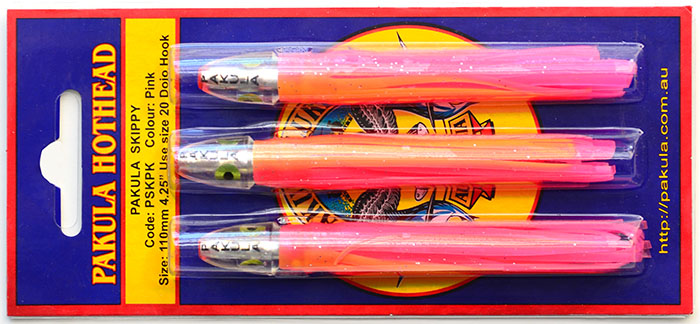 The Original Skippies are tiny 4.00" lures that extend the range of microgame fishing lures. These lures are hard heads and like all of our lures, hand poured polyurethane. These lures will attract any predatory fish, all of which eat small baitfish. The smaller the baitfish the more likely it is to be eaten as it's an easy meal.
Even though the Skippies are tiny they are a game fishing lure for all species from Tailor, Bluefish, Kingfish, all Tuna species and sizes and also Billfish of all sizes, therefore we recommend that leader no lighter than 80lb be used. Hook size is Dojo size 20 or if targeting bigger fish, Dojo size 25.
Name: Original Skippy

Code: SK

Length: 105mm 4.25"

Hooks: Dojo 15 or 20 (25 for Billfish)

Min Class: 4kg

Recommended Leader: 80lb

Position: All positions

Colours: Lumo, Blue Crystal, Hot Betty, Light Squid and Pink
Showing 1 to 5 of 5 (1 Pages)